Contact Us - We Are Here To help!
Call us now for a easy no-obligation estimate!
We service the City of Toronto and the rest of the Greater Toronto Area (GTA)
and now also serving Simcoe County and the City of Vaughan!
Bright Skylights Inc.
Mobile: (416) 705-8635
Email: info@brightskylights.ca




Facebook - Bright Skylights
Look for our advertisements: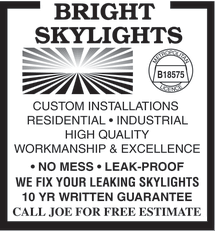 Our Commitment To Privacy
We take customer privacy seriously and do not sell or give out any customer information. We do not keep a mailing list nor distribute a newsletter.

Your privacy is extremely important to us. The trust placed in us by our customers is absolutely essential to our success. We understand that and do all we can to earn and protect that trust. We do not share your personal information with any outside companies nor collect any information.